Wireless Merchant Accounts
Ideal for: Tradeshow retailers, Flea Markets, Limousine and Taxi Services, Home repair contracting companies, Tradesman, Food Delivery, and more.
Wireless commerce Payment Systems is a market leader in wireless solutions for your business. Enabling your company to "swipe" credit cards anywhere and achieve the lowest possible discount rate is a vital element in improving your bottom line. Our "wireless" solutions allow you to accept your customer's credit card anywhere your business may take you! There are many benefits to setting up a "wireless" merchant account with Commerce Payment Systems:
Do "swiped" transactions, which are the lowest cost and safest transactions, wherever your business may take you.
Use the GPRS wireless network, the newest and most reliable network coverage available in the U.S.
Accept all major credit cards
Fast credit card and debit card authorizations on the GPRS wireless network
"Store and Forward" feature allows you to "swipe" transactions even when you are in an area that does not have good coverage
Simple to use POS software also has many optional features such as including tips in transactions, including tolls in transactions, linking transactions to a specific driver or service person, etc.
Technical Support Help Desk
Get your account set up and running within 24 hours!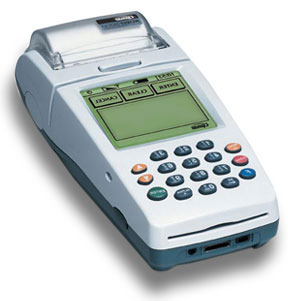 NURIT 8000
The NURIT 8000 is a flexible, lightweight, handheld terminal that enables fast, secure, error-free transactions for on-the-go merchants
The sophisticated multi-application platform supports a range of payment & value-added services - including credit, debit, T&E, EBT, smart cards, prepaid, loyalty, gift & proprietary cards - as well as business management solutions such as inventory control, dispatch, delivery, etc. The unit supports a variety of cellular networks, including GSM/GPRS, Mobitex, CDPD, DataTac, and CDMA. The terminal includes an easy-to-load thermal printer, a touch screen, built-in PIN Pad, and EMV smart card reader.
$1000 Value! You Get It Free!
FEATURES & BENEFITS
Standard Features: NURIT 8000
Built-in radio modem
HW/SW support for GSM, GPRS, Mobitex, CDPD, DataTac & CDMA
Multi-application support
Large, back-lit graphical LCD display
18-button ergonomically designed back-lit keypad; programmable quick keys
Dual track bi-directional magnetic card reader
Built-in Smart Card Interface
Internal, Built-in PIN pad
Easy-load paper mechanism
Quiet, graphical thermal printer
Rechargeable batteries
Processor:
Powerful ultra-fast 32-bit RISC (ARM7) microprocessor
Human Interface:
PDA sized back-lit graphical LCD display
18-button ergonomically-designed back-lit keypad
Dual track bi-directional tracks 1 and 2 magnetic card reader
Memory:
2 MB flash memory, extendable to 4 MB, for S/W
512 KB battery backed-up RAM for user data (including RAM disk) extendable to 2 MB
Six-month minimum data retention.