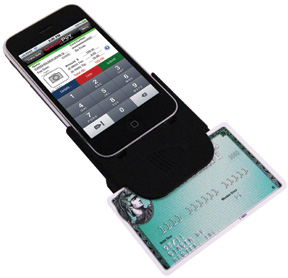 Free Smartphone Credit/Debit Card Swiper- Accept Payments On The Go
You may be a small business now, but you're growing. And you can't always be at your physical store to take a payment. In order to grow your business and expand your customer reach, you need to be able to accept credit/debit card payments on the go and in real time. And now you can.
Three cost effective Reasons to go, with your new Free Smartphone credit card processing system!
Our Smartphone Swiper device turns your smartphone into a secure credit card terminal. You'll receive a free credit card swiper and free software to get you up and running. This opens your business to a new world of customers, by enabling you to make a sale wherever you are.
With a Smartphone Swiper you can:
Get real-time authorization for swiped and keyed transactions
Use Signature Capture on touchscreen devices
Email receipts to your customers
Check transaction history and reports on your phone or online
Perfect for these industries:
Direct sellers
Gardeners and landscapers
General contractors, electricians, masonry and carpentry contractors
Taxi, limo and airport services
Mobile business owners
Mobile market vendors: artists, farmers, antique sellers
FEATURES & BENEFITS
The Android, Blackberry and Apple iPhone now provides small businesses and anyone with simple and secure mobile credit card processing capabilities on the popular smart phone platform.
PAYware Mobile includes a PA-DSS-approved payment app and a sleek and durable card reader that slips over the iPhone to accommodate card swipes and allows merchants to avoid "card-not-present" fees. The combined hardware and software provides strong card-payment security for the iPhone, including VeriFone's VeriShield Protect encryption solution as a standard feature.