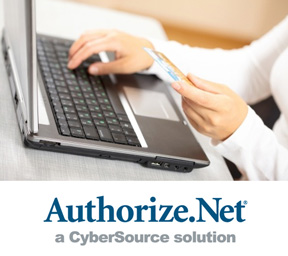 Internet Merchant Accounts
Accept card payments over the Internet using the Authorize.Net Payment Gateway.
All you have to do is key enter your transactions in the Authorize.Net 'Virtual Terminal, or have the Authorize.Net Payment Gateway wrapped into the shopping cart on your website.
IDEAL FOR
Webstores
Online businesses
Ebay sellers
Yahoo Store merchants
Home based businesses
Mobile merchants
Tradesman
Mail/Telephone/Fax order merchants using Authorize.Net.
Processing credit cards over the Internet is one of the fastest growing segments of transactions today. This type of transaction or "card-not-present" transaction requires a special type of merchant account. Most credit card companies use special criteria to assess risk and they have a different fee structure because you never physically see the card. There are many benefits to allowing Commerce Payment Systems to set up your card-not-present account, below are just a few.
Accept and process credit card payments real time
Accepts all major credit cards
Seconds to complete a transaction
Process credit card transactions from orders received offline
Issue credits
Void transactions
View your list of transactions online
Mail/Telephone/Fax order merchants using Authorize.Net.
INTERNET GATEWAY AND VIRTUAL TERMINAL APPLICATION
Unlimited transactions in multiple currencies from nearly anywhere in the world.
Scalability -- We'll grow with your business by supporting an unlimited number of transactions and any business model -- Internet, call center, broadband, wireless and retail.
Seconds to complete a transaction
Unrestricted number of users with one account -- ideal for large sales forces.
Experienced technical support 7 days a week 365 days a year.