Please fill out the form on the right to be emailed

the 0% Cash Discount Program FREE Bluetooth paperwork


0% Cash Discount Program
The 0% CASH DISCOUNT PROGRAM will save you thousands by eliminating credit card debit card processing fees. With the Cash Discount Program, you will not be charged a percentage rate or transaction fee on ANY credit or debit card you take. Whatever your statement shows as TOTAL FEES CHARGED IS THE SAVINGS THAT YOU WILL SEE when you join the Cash Discount Program.
Cash Discount pricing often referred to as a "No Brainer", will raise your bottom line and increase profit margins significantly! Why should you make less on an inspection because the customer pays with a credit card? The Cash Discount Program offer is very popular right now with many brick and mortar and online merchants for obvious reasons. Retail storefronts, restaurants, eCommerce and contractors all take advantage of this new way to cost-effectively accept debit/credit card payments wiping out all of the merchant processing costs. Why is it called the Cash Discount Program? Because when a customer pays you with cash they won't have to pay the processing cost associated with using the card. Either they will pay you with cash or pay the processing cost. Either way you win! InterNACHI-Pay does also offer the option of traditional pricing at a rate of 1.75%.
VIRTUAL SYSTEM AVAILABLE IF NO CREDIT/DEBIT CARD READER NEEDED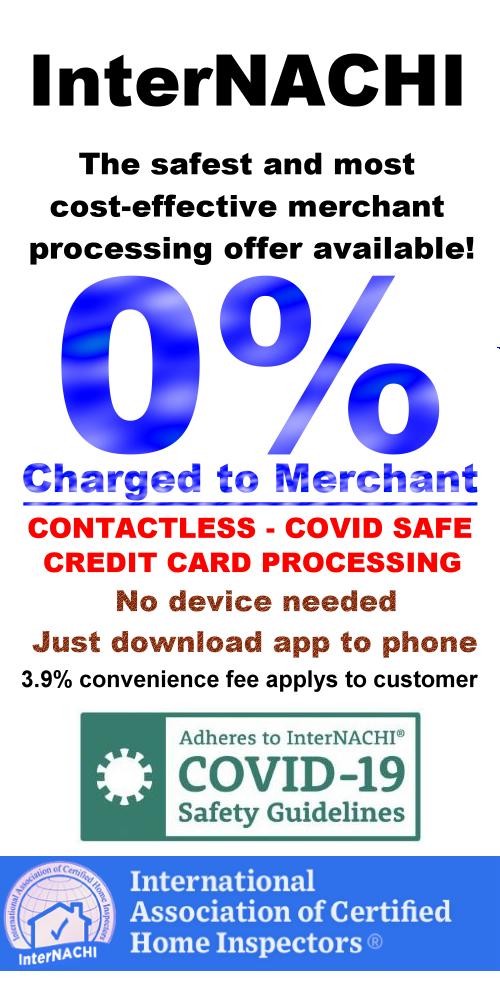 CELEBRATING 18 YEARS AS INTERNACHI'S EXCLUSIVE MERCHANT POINT OF SALE/BANKCARD ASSOCIATE AND LONGEST RUNNING VENDOR!

0% Processing FREE EMV Bluetooth
Credit/Debit Card Readers for all InterNACHI Home Inspectors!
BOTH THE 0% CASH DISCOUNT PROGRAM AND 1.75% OPTIONS INCLUDE A $10.00 MONTHLY GATEWAY FEE AND A FREE BLUETOOTH CARD READER!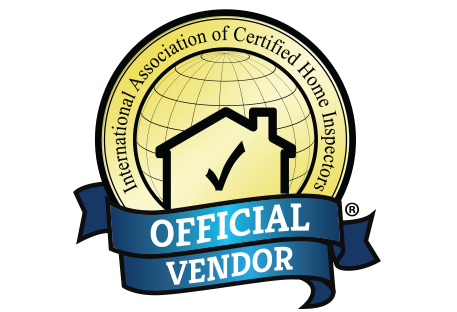 Proudly servicing and satisfying merchants for over 2 decades since 1999.
Proudly servicing InterNACHI as their exclusive bankcard associate and oldest vendor since 2006.
InterNACHI and Nick Gromicko endorse and highly recommend this FREE offer to all Home Inspectors, Mold Inspectors, Energy Inspectors and all Contractors.
Empowered Point of Sale, Inc. creditcardsystemsforfree.com offers a full comprehensive line of free payment solutions. A innovative leader in the merchant processing industry Since 1999. We offer all credit card, debit card and check acceptance for all types of businesses including all Traditional Retail Storefronts, Home Inspectors, Appraisers, Wireless, Service Industries, Mail Order/Telephone Order, Bar/Nightclub, Government Agencies, Hospitality/Hotel, Churches/Schools, Trade Groups/Associations, Supermarket/Grocery, Petroleum/Convenience Stores, Internet and Restaurants.
Empowered Point of Sale, Inc. creditcardsystemsforfree.com offers a FREE comprehensive line of processing solutions including:.
EMV Bluetooth Card Reader at 0%
eCommerce accounts for website transactions
Landlines with optional check guarantee imager
Wireless systems for in the field transactions
Electronic cash resisters POS systems for Restaurants
Payroll services
Check cashing services
Virtual systems for keying in online
Recurring billing for account receivables
ATM machines
Empowered Point of sale is pleased to offer additional products and services as:
Merchant cash advances

Giftcard and loyalty programs

Electronic ACH EFT
Anything and Everything Bankcard Related!
Here is an opportunity to take part in Empowered Point of Sale creditcardsystemsforfree.com FREE credit card system. That's correct it's absolutely free, no upfront cash, no four year lease, no application, activation or service fee's, no catches, gimmicks and above all no risk. With strong added revenue streams and increased cash flow profits for your business. Even the shipping, installation and training is free. Other free benefits include on going support 24/7, 365 days a year. GAA (Global access advantage) allows you a real-time, free on line status report of your processing.
We at Empowered Point of Sale, Inc. creditcardsystemsforfree.com are excited and driven that you grasp this success proven formula and want you to highly succeed in your business endeavors. By accepting all forms of credit-debit payment you open multiple revenue streams creating convenient payment options for your clients at the same time. It also gives you a very trustworthy, reputable and prestigious impression. It should be if managed right be a money maker, profit center statistically increasing your income 20 to 30%. Empower your clients with the choice of several different payment options including American Express, Discover and debit also. Receive your money within 24 hours not weeks waiting for a check to clear. Secure future scheduled appointments with deposits over the phone. Be smart this is an important financial survival tool; it's now do or die if you don't accept credit cards. Realize that if you don't accept credit cards, don't worry your lost client/customer will find a company that does (meaning your competition). Nobody wants that, keep the money in your business.
Not only will accepting credit cards bring in multi-revenue streams but it will also make you look that much more credible, grounded, established and professional!
Right now wherever you advertise if you don't have a Visa/MasterCard logo on your ad you are losing money and business to your Competitor that does readily accept Visa/MasterCard. Now a day's people want the air miles and all the perks associated with credit cards and the convenience of same as cash with debit cards. Some clients might like to spread their payments out over time and finance with a credit card while paying you all at once guaranteed. Thus giving them time to pay it off gradually. We at creditcardsystemsforfree.com designed this to financially enhance your fiscal portfolio and augment your financial strategy. This should add greatly to your business success story opening different revenue streams and cash flow leading directly into your bank account.
But if for some reason it doesn't work out return it with no obligation, no four year lease. That just shows that you failed to market it and promote it, you waited for people to ask if you take credit cards. You forgot it at home or neglected to utilize it for its true financial potential. However it's not to smart or a good business move to stop accepting credit cards once you've started. Why go backwards? This is a step up to the next professional level; you want to grow don't you? Build your business and expand your financial future; do not destroy it by rejecting any form of income or revenue. Let the power of Visa/MasterCard strengthen and fortify your financial business plan and solidify its monetary value.
We at Empowered Point of Sale, Inc. creditcardsystemsforfree.com want you to highly succeed with your free merchant account. We have free equipment, low rates, a risk free program and great service. If you follow this proven science you will win with this. We are expert, veteran qualified, well rounded experienced bank card professionals. We will consult and train you to understand and reap all the financial rewards and increased profits associated with accepting all forms of payment. Including Visa/MasterCard, American Express and Discover. You'll be able to accept any card on the planet. Apply now to get set up with your free, risk free credit card system!